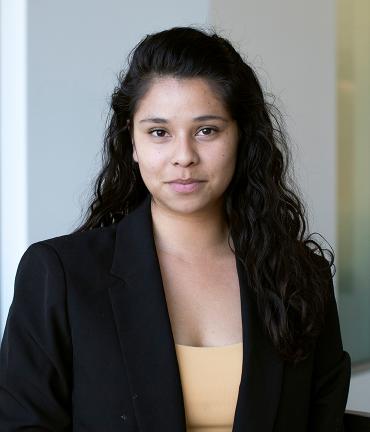 Francisca Catalan
Research Associate
My research in the Diaz Lab involves creating processing pipelines for single-cell data from primary and recurrent human glioma samples.  I've created a single cell database that allows the user to look up genes expression across 100,000+ cells and their corresponding cell type, diagnosis – ultimately aiding drug target research.
Education
2018: BS, Cell and Molecular Biology, San Francisco State University
Featured Publications
The phenotypes of proliferating glioblastoma cells reside on a single axis of variation
Wang L, Babikir H, Muller S, Yagnik G, Shamardani K, Catalan F, Kohanbash G, Alvarado B, Di Lullo E, Kriegstein A, Shah S, Wadhwa H, Chang SM, Philips JJ, Aghi MK, Diaz AA
Cancer Discov. 2019 Sep 25. pii: CD-19-0329. doi: 10.1158/2159-8290.CD-19-0329. [Epub ahead of print]
---
Illuminating women's hidden contribution to historical theoretical population genetics
Dung S, López A,  Lopez Barragan E, Reyes R-J, Thu R, Castellanos E, Catalan F, Huerta Sanchez E, Rohlfs RV
Genetics. 2019 Feb;211(2):363-366. doi: 10.1534/genetics.118.301277.